Mission & Goals
Mission
Eliminate the criminalization and abusive treatment of people with mental illness by improving public safety and mental health systems through proactive training and public education.
Goals
Speak out against violence in mental health crisis response
Advocate for high quality mental health crisis training for first responders including police, firefighters, paramedics, safety-net providers, mental health policy makers, and managers
Work to increase the capacity of mental health acute and long-term support systems that can prevent mental health crises
---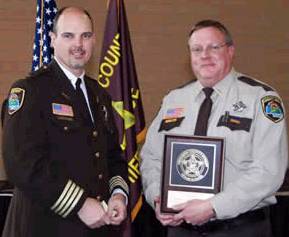 Hennepin County Sheriff Richard Stanek, left, and Hennepin County Sheriff's Lt. Randy Carroll, right, have been instrumental in the 6 years of BSF's CIT classes for detention and corrections at the Hennepin County Jail.  Sheriff Stanek has hosted the trainings and Lt Carroll has been the moving force behind the growth of the trainings there.   Their strong partnership with Barbara Schneider Foundation on these trainings exemplify what CIT is all about.  Our work together has made a real difference for 2 dozen jails and prisons and their staff, in Minnesota and other states, and for the many they house who have a mental illness.