RECOVERY ADVOCACY SEMINAR
FEBRUARY 20, 2014, 9AM-2:30 PM
Metro State University, St Paul
Registration Deadline:  February 10
More Info: www.minnesotarecovery.org/events
Screening of the Anonymous People is included
MENTAL HEALTH DAY ON THE HILL
Tuesday, March 6, 2014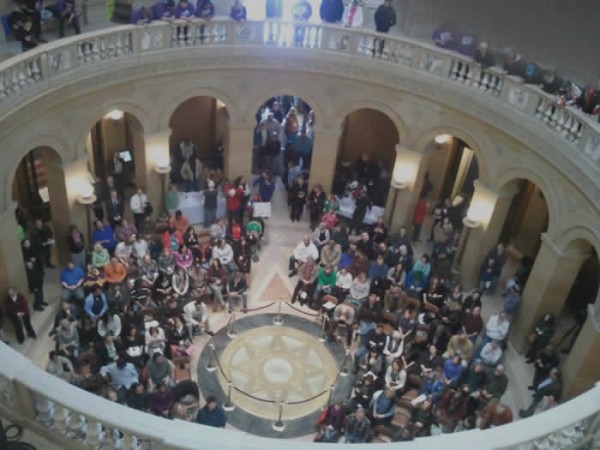 Sponsored by the Mental Health Legislative Network (MHLN) – a coalition of over 30 organizations concerned about the quality and availability of mental health services.
10 a.m. – Informational Briefing
Christ Lutheran Church – 105 University Avenue West
(Across the street from the Capitol)
Noon – Visit with your State Legislators
(Call your legislators' offices to make an appointment ahead of time)
1:30 p.m. – Rally
State Capitol Rotunda
RECOVERY DAY ON THE HILL
Tuesday, March 11, 2014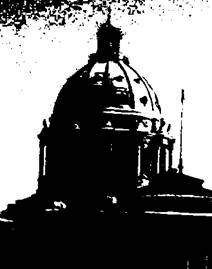 Please join us on Tuesday, March 11th, as we rally the recovery community to show Minnesota that recovery is possible and that people recover from addiction every day! Whether you are an individual in recovery, a family member, a friend, a professional in the field, a co-worker or an employer of a recovering person, the recovery community needs you there. Our message is simple: Recovery works!
This is your chance to stand with other supporters of recovery, speak to your legislators, and help ensure that more people in Minnesota get the recovery support they need and deserve!
For more information, and assistance with scheduling a meeting with your legislator, please contact Julia Parnell at 651-233-2080 or julia@minnesotarecovery.org.
SECOND CHANCE DAY ON THE HILL
March 12, 2014
BSF IS A FOUNDING CO-SPONSOR OF SECOND CHANCE DAY ON THE HILL
There are unfair barriers to employment and housing for individuls who had criminal justice contact when they were in mental health crisis.  These barriers make it doubly hard for many to recover from their illness and get their life back.  Join us at the Capitol to help policy makers understand this issue and make urgently needed changes.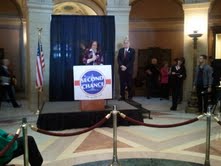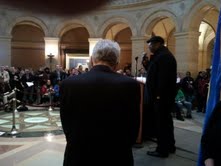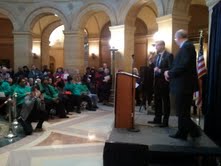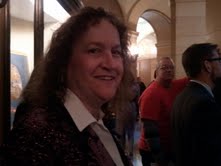 Photos from the 2013 event, Clockwise from upper left:  Mary Jo Rawson of BSF speaks to over 500 in the Minnesota Capitol Rotunda on her jouney from illness to recovery; Mary Jo Rawson of BSF speaks to legislators about the need to end discrimination against those with a mental illness; Marvin Clark of EMERGE Villages speaks about the importance on giving everyone a second chance; State Senator Scott Dibble welcomes the Second Chance Coalition to "Your house, the peoples house."   The event was MCed by Dan Caine of RS Eden.
6th Annual MDE MAKA SKA CANOE NATIONS GATHERING
May 23, 2014
 
Mde Maka Ska, aka Lake Calhoun (near Thomas Beach)
The Mde Maka Ska Canoe Nations Gathering event is an genuine opportunity for Native American youth, parents, and community to re-engage the sacredness of water or mni wakan. Today, the Mde Maka Ska is called Lake Calhoun. Its Dakota name means White Earth Lake. For the Minneapolis-St. Paul Native American community, its proximity inspires an indigenous means to return to cultural, emotional, mental, physical, and spiritual health. As water does for the finned nation, the Mde Maka Ska provides an appropriate environment in which to implement visions of healthier indigenous nations.
The Mde Maka Ska gathering is a linguistically, culturally and historically infused initiative generated by indigenous Dakota precepts regarding water and the sacred architecture it inspired, the canoe. Anishinabe views are also included. The annual gathering is held upon the south shore of Mde Maka Ska, the centuries-old Dakota Nation name for today's Lake Calhoun.
The first values occupants learn in a canoe is that, no matter what your skin color, cooperation, teamwork and trust are necessary to achieve a healthy and well-balanced craft. BSF is a co-sponsor of Mde Maka Ska Canoe Nations Gathering
9TH ANNUAL CIT INTERNATIONAL CONFERENCE IN MONTEREY CALIFORNIA
October 19, 2014
LIVES IN OUR HARMONY
14TH ANNUAL MENTAL HEALTH EDUCATION PROJECT
ANNUAL CONFERENCE ON MENTAL HEALTH 10:00am – 3:45pm
MHEP raises awareness of mental health, offers education and training, andprovides support for families and individuals. The project received the 2003 Faith Community of the Year Award from NAMI-MN. MHEP is a collaborative program of Jewish Family and Children's Service of Minneapolis and Jewish Family Service of St. Paul.
FREE and open to all!
FEATURING KEYNOTERS
Ronald Braunstein
Caroline Whiddon
Register online at www.jfcsmpls.org
OR mail this completed form to Fall Conference, c/o JFS of St. Paul, 1633 W Seventh St, St. Paul, MN 55102. Thanks to the generous support of our sponsors, we are able to offer bag lunches at no charge to everyone who registers by MONDAY, OCTOBER 6.
8TH ANNUAL PUBLIC POLICY & MENTAL HEALTH CONFERENCE –
HUMAN TRAFFICKING: A MENTAL HEALTH CHALLENGE
Oct. 29, 2014 8am-4pm
No charge but pre-registration is required.
When: Wednesday, October 29, 2014, 8:00 a.m. – 4:00 p.m. (program beings at 8:30 a.m.)
Where: University of St. Thomas, Opus Hall, 1000 LaSalle Avenue, Minneapolis, MN, 55403
Who should attend: Attendance is encouraged for professionals from victim services organizations and other allied professions who routinely work with victims of crime in Minnesota. This can include: law enforcement, attorneys, policy makers, educators, victim/witness coordinators, advocates, social workers, and mental health professionals. In addition, students pursuing degrees in any of these professional areas are highly encouraged to attend.
Cost: This conference (including lunch) is free, but preregistration is required.
Registration Deadline: October 21 (or until full). Learn more and register: www.stthomas.edu/celc/ppmh
The Public Policy and Mental Health Conference "Human Trafficking: A Mental Health Challenge" conference will educate participants about human trafficking within our state. Focus will also be given to issues relevant to human and labor trafficking in Minnesota, provide awareness on the depth and scope of the problem from the local and national perspective, and provide insight into Minnesota's "Safe Harbor" legislation. Participants will be provided information on current trafficking law, historical background on case investigation and prosecution in Minnesota, and how local agencies are working to address the complex mental health needs of this population.
Featured speakers will include U.S. Representative Erik Paulsen; John Choi, Ramsey County Attorney; Vednita Carter, Breaking Free; and Susan Schmidt, MSSW, LGSW, a consultant on children and immigration issues. Special remarks will be given by U.S. Senator Amy Klobuchar.
The conference will also include two panel discussions focusing on human trafficking and the complex mental health issues of this population and the role of professionals and policy makers in addressing their needs.
MENTAL HEALTH EDUCATION PROJECT 12TH ANNUAL CONFERENCE
November 11, 2012, 1pm-6pm
Temple Israel, 2324 Emerson Av S, Minneapolis, MN
Over 20 Breakout Sessions. Healing Service.
All are welcome.  Special invitation to individuals who are in recovery from mental illness or who have a loved one in recovery.
For more information call Laurie Kramer, 952 417 2149.