SECOND CHANCE DAY ON THE HILL
January 31, 2012, 10 am Capitol Rotunda, St. Paul, Minnesota
BSF calls for a second chance for those who have a mental illness and have had contact. Barbara Schneider Foundaion is a founding member of the Second Chance Coalition.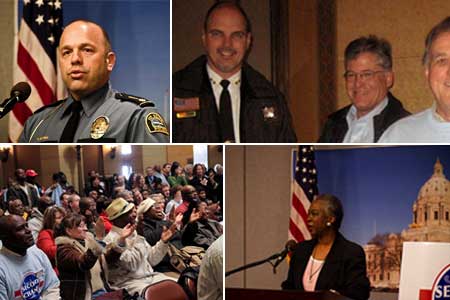 Photos from Second Chance Coalition Day on the Hill
For more information please email Tanya Gardner or call (905) 972-8118. You may fax your completed registration form to 905-972-8448.
6th Annual Mental Health and Public Policy Conference
THE ROLE OF TRAUMA IN MENTAL HEALTH
FRIDAY, APRIL 27, 8am -4pm.
University of St. Thomas Minneapolis Campus Opus Hall
Presented by
University of St. Thomas, College of Applied Professional Studies, Public Policy Program
Minnesota Office of Ombudsman for Mental Health and Developmental Disabilities
The conference will address mental health issues specific to vulnerable youth and will explore social justice issues in mental health and disability. Professionals and students in special education, social work psychology, public policy, education and law are encouraged to attend.
Free and Open to the Public
Conference Outline
8 a.m. Registration
8:30 a.m. Welcome Bruce Kramer, Ph. D., Dean, College of Applied Professional Studies
9 a.m. Dr. Jonathan Jensen, Associate Professor and Director
Residency Training Program in Child and Adolescent Psychiatry, University of Minnesota
10:15 a.m. Panel: Culture and Trauma
Ahmed Yusuf, Mauricio Cifuentes, Rosa E. Garcia-Peltoniemi
(Pamela Hoopes, moderator)
11:30 a.m. Lunch and Table Discussions
1 p.m. Panel: Stories from the Field
Dr. Jennifer Ostergaard, Roberta Opheim, Maureen Marrin
(Dr. Colin Hollidge, moderator)
2:15 p.m Owen Rice, Deputy Sheriff at Hennepin County Sheriff's Office
3:15 p.m Closing Remarks: Patricia Jensen
3:30 p.m Reception
Co-sponsored by: St. Catherine University • University of St. Thomas School of Social Work
University of St Thomas, Minneapolis Campus, Opus Hall, LaSalle Av and South 10th Street.  No charge to attend.   Open to community members and professionals.
Owen Rice, HCSO, was a featured speaker.  Owen has presented on combat related trauma at BSF's CIT trainings for several years.
SOMALI MENTAL HEALTH COMMUNITY OUTREACH MEETING
Wednesday May 2, 2012 10:00am-noon 389 Hamline Avenue St. Paul, MN 55104
No charge to the public to participate
Farsamooyinka Dejinta            
Ee lagula macaamilo dadka maskaxda ka jiran
Hagaajinta sida looga jawaabo dhibaatooyinka cudurada maskaxda
Ka hortagga dhibaatooyinka la xiriira cudurada maskaxda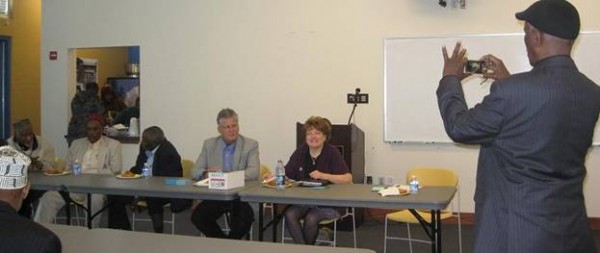 This meeting addressed how the mental health crisis response system impacts the Somali community and identified barriers to high quality crisis response.   There was a presentation in English and Somali and plenty of time for community members to ask questions and engage in discussion.
Co-sponsored by: Barbara Schneider Foundation; and
Abdullahi Egal Excutive Director
Somali Cultural and Human Services
2147 University Ave. W. Suite 107
Tel.651-214-0622 Fax.651-224-6104
E-mail: somcul@gmail.com.
All community members are welcome to attend. Breakfast will be served
MDE MAKA SKA CANOE NATIONS GATHERING
May 25, 2012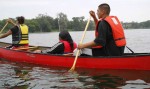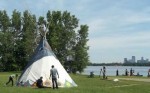 Lake Calhoun aka Mde Maka Ska (near Thomas Beach)
The Mde Maka Ska Canoe Nations Gathering event is an genuine opportunity for Native American youth, parents, and community to re-engage the sacredness of water or mni wakan. Today, the Mde Maka Ska is called Lake Calhoun. Its Dakota name means White Earth Lake. For the Minneapolis-St. Paul Native American community, its proximity inspires an indigenous means to return to cultural, emotional, mental, physical, and spiritual health. As water does for the finned nation, the Mde Maka Ska provides an appropriate environment in which to implement visions of healthier indigenous nations.
The Mde Maka Ska gathering is a linguistically, culturally and historically infused initiative generated by indigenous Dakota precepts regarding water and the sacred architecture it inspired, the canoe. Anishinabe views are also included. The annual gathering is held upon the south shore of Mde Maka Ska, the centuries-old Dakota Nation name for today's Lake Calhoun.
The first values occupants learn in a canoe is that, no matter what your skin color, cooperation, teamwork and trust are necessary to achieve a healthy and well-balanced craft.
[BSF is a co-sponsor of Mde Maka Ska Canoe Nations Gathering and works with the American Indian community in the American Indian Safety Council and the Metropolitan Urban Indian Directors Group subcommittee on public safety.] 
3nd Annual bsf Golf Tournament
Theodore Wirth Golf Course, 1301 Theodore Wirth Parkway,
Minneapolis, MN 55422
Schedule

8:00 a.m. Continental Breakfast

9:00 a.m. Shotgun, with golf & cart, Scramble Format

Luncheon with prizes & silent auction items after golf

Sign up by yourself – We'll pair you with other golfers – or sign up as a foursome. Mixed men and women's teams are very welcome. Or, if you can't join us for golf, please send your tax deductible donation to support our work.
• • • • • • • • • • Be a Tournament Sponsor • • • • • • • • • •

$1000

Corporate sponsor

Recognition in the program & all tournament-related publicity, includes your team of 4 golfers

$750

Individual sponsor

Recognition in the program, includes participation of 2 golfers

$350

Hole sponsor

recognition in the program
Proceeds to support Barbara Schneider Foundation's work to strengthen the response to responders, hospital emergency rooms, social workers in the community and schools. Help us reduce trauma and improve outcomes for responders and those with an illness.
FIELD HEARING ON: IMPLEMENTATION OF THE FEDERAL MENTAL HEALTH PARITY LAW
Monday, July 16, 2012 6:30 -8:30 pm
The Recovery Church, 253 State St., St. Paul, MN 55107
With:
Patrick Kennedy
Jim Ramstad
Dave Wellstone
Featuring:
Betty McCollum
Keith Ellison
Panel 1: Addiction and Mental Health Consumers and Providers
1. Tricia Stark
2. Katie Bird
3. Billy Hamilton
4. Kim Schwichtenberg
5. Judge Casey Christain
Panel 2: Government officials, academics/researchers and insurers
1. Dr. Gavin Bart (Hennepin County Medical Center)
2. Lucinda Jesson (Commissioner of DHS)
3. Kevin Evenson (Director of DHS-ADAD)
4. Glenn Andis (Medica)
3ND INTERNATIONAL CIT CONFERENCE
August 20-22, 2012 Las Vegas, Nevada
Details: www.citinternational.org
Barbara Schneider Foundation presented 3 breakout sessions, at the CIT International Conference in Las Vegas, focused on teaching de-escalation to police officers and strengthening a CIT program with strong partnerships between police, mental health providers and mental health advocates.  Copies of the power points used in the breakouts on: Barriers to De-escalation in 5 Cultural Communities; De-escalation when the Symptom is Hypersexuality; and Partnership with Advocacy as a Core Element of CIT are all available by email from admin@thebarbaraschneiderfoundation.org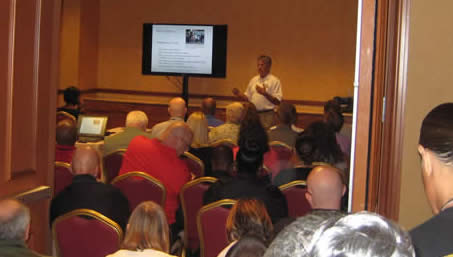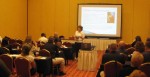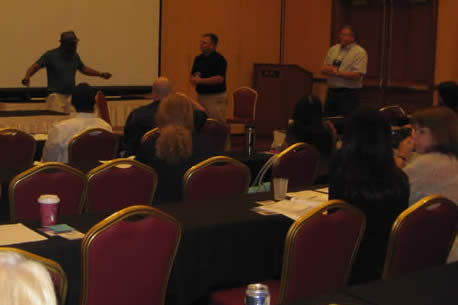 Photos of BSF breakouts from the top: Overflow crowd at breakout on Barriers to De-escalation in 5 Cultural Communities; De-escalation when the Symptom is Hypersexuality; BSF Actor and CIT Coach/Trainer present a training scenario that teaches de-escalation of a crisis.
MENTAL HEALTH EDUCATION PROJECT 12TH ANNUAL CONFERENCE
November 11, 2012, 1pm-6pm
Temple Israel, Minneapolis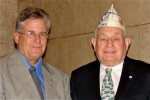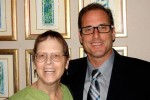 Mark Anderson introduced the Jewish War Veterans who led the conference in the Pledge of Allegiance in honor of Veterans Day.  Conference Chair Laurie Kramer with special guest David Wellstone. (Photos by Tom Segal)