2ND INTERNATIONAL CIT CONFERENCE
September 11-14, 2011,  Virginia Beach, VA
SAVE THE DATE for the Second Annual International CIT Conference!
(Formerly the National CIT Conference) This event is Sponsored by CIT International.
Here's the link to register: http://www.citi2011.com/
MENTAL HEALTH EDUCATION PROJECT 11TH ANNUAL CONFERENCE
November 13, 2011, 1pm-6pm
Temple Israel, Minneapolis
Co-sponsored by BSF. Watch this space for details as they become available.
SECOND CHANCE DAY ON THE HILL
January 26, 2011, 10 am
Capitol Rotunda, St. Paul, Minnesota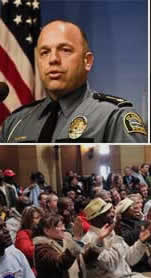 BSF calls for a second chance for those who have a mental illness and have had contact. Barbara Schneider Foundaion is a founding member of the Second Chance Coalition.
MENTAL HEALTH DAY ON THE HILL
March 8, 2011
9am Christ Lutheran Church information briefing
10am Capitol Rotunda Rally
The Mental Health Legislative Network will host its annual day on the hill Tuesday, March 8th. The event will begin with an information session about important issues for this year's legislative session at Christ Lutheran Church in St. Paul, followed by a rally at the Capitol Rotunda. Mental Health Day on the Hill is a great opportunity for you to share your concerns about legislation that will have an affect on people living with mental illnesses with your legislators.
TRANSFORMING FAMILIES
April 8, 2011, 8:30am-4pm
Mt Zion Temple, 1300 Summit Av, St Paul
Co-sponsored by BSF.
A community conversation recognizing accomplishments and exploring new understandings and strategies to break the cycle of family violence.  For, Criminal Justice, Human Service Providers, Domestic Violence Workers, Policy Makers.
Keynote:   Dr, Linda Mills, author of Violent Partners
Judge Pam Alexander, President, Council on Crime and Justice
Victoria Reinhardt, Chair of the Ramsey County Board
Carol Arthur, Executive Director, Domestic Abuse Project
And much more…
Registration $25.   Contact: Bestsy Sitkoff, 952 546 0616, bsitkoff@jfcsmpls.org
Follow these links for more details:
http://www.jfcsmpls.org/
http://www.co.ramsey.mn.us/ph/index.htm
5th ANNUAL Public Policy & Mental Health Conference:
SOCIAL JUSTICE FOR PEOPLE WITH MENTAL ILLNESS:
WHAT WORKS AND WHAT WE NEED
May 6, 2011, 9am – 3pm
University of St. Thomas, Minneapolis, Thorton Auditorium
Co-sponsored by BSF (Conference will focus on the needs and issues of youth & challenges faced by underserved populations. Public policy  suggestions & recommendations will be explored.)
Speakers: William Cope Moyers, Vice President of Foundation Relations for Hazelden; Hon. Donovan Frank, U.S. District Judge, District of MN; Pete Feigle, Co-Founder 'Tilting At Windmills'; Tim Rumsey M.D., United Family Practice Health Center; Georgetta Hawkins,  Mpls. Public Schools Social Worker; Lissa Jones, ED, African American Family Services
No charge to attend.   Lunch is included.  But you must register in advance on the Univeristy of St Thomas Website.
Canadian Crisis Intervention Team (CIT) Conference 2011
Tuesday May 17th and Wednesday May 18th, 2011
The Courtyard Marriott, 1224 Upper James Street, Hamilton, ON
905-383-7772 or 1-866-321-2211
For more information please email Tanya Gardner or call (905) 972-8118. You may fax your completed registration form to 905-972-8448.