WEDNESDAY, NOVEMBER 18 – 11:00 am
MENTAL ILLNESS: Not So Far from Home As We May Think
Truth to Tell's ANDY DRISCOLL and LYNNELL MICKELSEN talk with three of the Barbara Schneider Foundation's principals about where the movement is taking us.
GUESTS:
MARK ANDERSON – Executive Director, Barbara Schneider Foundation and the Mental Health Crisis Response Institute
CHARLES JENSEN – Mental health advocate with Barbara Schneider Foundation; 12 years homeless; arrested 89 times, including seven felony arrests
PATTI KRESSLEY – police officer(13 years); MA, counseling psychology; Instructor, Argosy University
"RUTH" – Mental Health Consumer
PODCASTS:
TTT on MobileMe
DELICIOUS
MyPODCAST
GarageBand/G-CAST Direct Play
GarageBand/G-CAST All shows list
Subscribe in iTunes
Terms and Conditions
Please read this Agreement carefully before using the KFAI MP3 Player (the "Giving System"). This is a binding agreement (the "Agreement") between you or the entity that is using this software to listen to KFAI's mp3 live stream ("you") and KFAI, Fresh Air Inc.("KFAI"). By using this MP3 Player, you hereby ACCEPT AND AGREE TO REFRAIN FROM DOWNLOADING ALL OR PARTS of the associated programming contained within this portion of MP3 live stream to which you will be linked after agreeing to and accepting the Agreement.
Congratulations! TO OUR 2009 BARBARA SCHNEIDER FOUNDATION AWARD WINNERS:
TRAINING:

EDUCATION:

COMMUNITY SERVICE:

CONSUMER:

DONOR:

COLLABORATOR:

Sergeant Joann Springer, Ramsey County Sheriff's Office

Tom Braun, Community Member

Rubén Rosario, St. Paul Pioneer Press

Charles Jensen, Barbara Schneider Foundation Board

Becky Barnes, LICSW, Family Member

Dick Embacher, South Central Community Based Initiative
Our CIT training partners from the Ramsey County Sheriff's Office and the Hennepin County Sheriff's Office joined us for an evening of celebration of our success at growing the CIT movement in Minnesota. Our thanks to all our law enforcement partners who have become incolved in CIT.
6th ANNUAL BSF SUMMER GALA
Thursday, August 13, 2009, 7-10pm Five Event Center, 2917 Bryant Avenue S.
(former 5th Precinct of the Minneapolis PD)
Barbara Schneider Foundation invites you to join us for our annual Summer Gala. We will be thanking all our Partners, Volunteers and Contributors who participated in our work during the last year by; volunteering, hosting a training, presenting at, or attending a BSF training.
The evening will be filled with delicious food, exciting prizes, great company, and the music of the nationally known Yolande Bruce, best known as a member of the award winning vocal jazz group Moore by Four. She has performed nationally and internationally, and opened for such legendary acts as Dizzy Gillespie, Ella Fitzgerald, Sara Vaughn, and BB King.Yolande has received many awards including the nomination for Best Female Jazz Artist by the Minnesota Music Awards. She is also an actress with stand-out performances including Blues in the Night at the Ordway, and Black Nativity at the Penumbra Theater. She is a very versatile entertainer and Emcee, a performer not to be missed!

Thanks! to our Major Training and Collaboration Partners, Summer 2008-Summer 2009
Criminal Justice Partners10th Judicial District

180 Degrees

Chicago Police Department

CIT International

Hennepin County Attorney's Office

Hennepin County Community Corrections

Hennepin County Mental Health Court

Hennepin County Sheriff's Deputies Association

Hennepin County Sheriff's Office

Isanti Police Department

Metro Critical Incident Response Team

Mille Lacs Band of Ojibwe Tribal Police

Minneapolis Police Department

Minnesota Chiefs of Police Association

Minnesota CIT Officers Association

Minnesota Legal Services Coalition

Minnesota Peace and Police Officers Association

Partners in Crisis Florida

Ramsey County Emergency Communications

Ramsey County Mental Health Court

Ramsey County Sheriff's Office

Scott County Sheriff's Office

St Paul Police Department

University of Minnesota Police Department

Washington County Attorney's Office

Washington County Sheriff's Office

Education PartnersCentury College

Concordia University

Metropolitan State University

Minneapolis Public Schools

St. Olaf College

University of Minnesota

University of St. Thomas

Community Partners

American Women/Men In Need

American Indian Safety Council

Argosy University Twin Cities

Basilica of Saint Mary

City Advocates for Human Rights

African of Minneapolis

Council on Crime and Justice

Eli Lilly

Gadtke Family

Heading Home Hennepin

Interfaith Network for Mental Health

Minnesota Chapter, Public Risk Management Association

Olu's Home

Oswald Family Foundation

Scott County CDA

St. Joan of Arc Mental Health Ministry

Tom Braun Fund of the Minneapolis Foundation

Mental Health Community PartnersAlzheimer's Association

Brown County Human Services

Consumer Survivor Network of Minnesota

Crisis Connection

Delancey Street

Guild, Inc.

Hennepin County Human Services

HSI

Mental Health Association of Minnesota

Mental Health Consumer/Survivor Network of MN

Mental Health Education Project

Mental Health Legislative Network

Metro Children's Crisis Services

Minnesota Assn of Mental Health Residential Facilities

Minnesota Department of Human Services

Minnesota Disability Law Center

Minnesota Mental Health Advisory Council

Minnesota Mental Health Association

Minnesota Teen Challenge

NAMI Hennepin County

NAMI Minnesota

NAMI Ramsey County

People Incorporated

Ramsey County Human Services

Ramsey County Local Mental Health Advisory Council

Region 7E Crisis Services

Rise, Inc.

SAVE

Scott County Community Action Program

South Central Community Based Initiative

South Metro

Tasks Unlimited

Trilogy Integrated Resources-Network of Care

Wadena County Local Mental Health Adv.Council

Washington County Local Mental Health Advisory Council

Health Care PartnersAbbott Northwestern Hospital

Allina

Comunidades Latinas Unidas En Servicio (C

LUES)

District One Hospital

Fairview

Hazelden

Hennepin County Medical Center

Janssen Pharmaceutical

Mayo Clinic

Mille Lacs Health System

Minnesota Assistance Council for Veterans

Metro EMS Board

Northfield Hospital

Prairie St John's

Regions Hospital

St Peter Regional Treatment CenterTraining Partners

88th Regional Readiness Command

Consumer Volunteers

Crisis Company

Double O Media

LEAP Institute

MASA Consulting

Pro-Crisis

Temple Israel
Time to ACT: Addressing mental health issues
in Underserved populations
May 7, 2009 8:30am – 5:00pm
Terrence Murphy Hall, St. Thomas Campus
1000 LaSalle Ave., Minneapolis
Barbara Schneider Foundation is Co-sponsoring the third annual Mental Health and Public Policy Conference, focused on underserved populations – How Minnesota can take better care of underserved populations – the homeless, elderly and poor, people of color, veterans, prison populations and more.
The daylong conference is sponsored by the university's Public Policy and Leadership program. It is open both to professionals and the public. Registration fees range from $20 (student) to $100 (for professional and continuing education credits). Online registration and more information is available at www.stthomas.edu/education/events.
The conference features presentations and commentary by a wide-ranging group of mental health professionals, public servants and interested citizens.
The day's events begin with a welcome by Dr. Bruce Kramer, interim dean of St. Thomas' College of Applied Professional Studies, and opening remarks by conference coordinator Patricia Jensen, adjunct professor in public policy.
Morning keynote speaker is Dr. L. Read Sulik, who last November began a position as Minnesota's new assistant commissioner for chemical and mental health services in the Minnesota Department of Human Services, will share seven priorities he has set for improving mental health services in the state. Among them: eradicating the stigma still associated with mental illness, overcoming barriers to access, reducing costs of mental health care and promoting activities that improve wellness.
The midday speaker will be Minnesota Sen. John Marty (DFL, District 54), chairman of the Minnesota Senate Committee on Health, Housing and Family Security. He is chief author of the proposed MN Health Plan, a statewide health-care plan currently under discussion by the Minnesota Legislature. It would cover primary, dental and mental health care, hospitalization and prescription medication.
Afternoon keynoter is Dennis Donovan, a research fellow in the Center for Democracy and Citizenship at the University of Minnesota's Hubert H. Humphrey Institute for Public Affairs. He is lead organizer of the center's Warrior to Citizen program, a grassroots effort to provide enduring support to Minnesota's returning veterans and their families. He also leads Public Achievement, an international youth civic engagement and education initiative. The former educator was a founder of the St. Paul Ecumenical Alliance of Congregations (SPEAC) and received the 2008 University of Minnesota Community Service Award.
A variety of breakout sessions also are scheduled on topics ranging from homelessness, cultural diversity and the elderly to veterans and prison issues. The day will conclude with a discussion of action plans.
For further information or questions about this conference, call
Sonja Runck in the College of Applied Professional Studies, (651) 962-4431.
*A special thank you to the Shakopee Mdewakanton Sioux Community for their generous support.
4th Annual Upper Midwest CIT Conference
April 22, 2009
Minneapolis Convention Center
Thanks to all our attendees for making this a very successful conference!
Our thanks for underwriting assistance with this conference to:

Becky Barnes in memory of her son Jonathan Barnes
Eli Lilly
Oswald Family Foundation
Thanks as well to all our presenters who gave so generously of their time:

Lt. Mike Woody, President, CIT International
Dr. Xavier Amador
All our breakout presenters
All our vendor table sponsors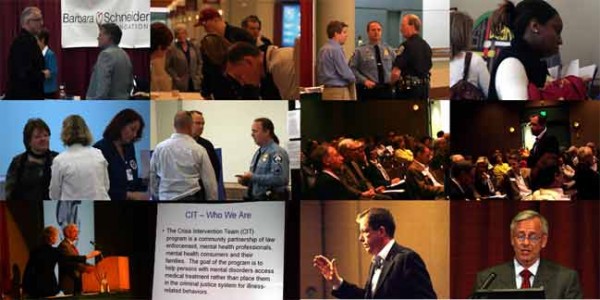 Conference photos courtesy of James Robert Herbert Imaging
Funded by a grant from the National Institute of Mental Health, Amy Watson, PhD, from the Jane Addams College of Social Work, University of Illinois Chicago, and her colleagues studied the CIT program in four Chicago Police Districts. The research team interviewed 216 CIT and non-CIT officers at 4 different time points about their experiences with mental health calls and the mental health system as well as their experience with and attitudes towards the CIT program. Results concerning the implications of CIT implementation on call outcomes, officer use of force and officer attitudes will be discussed.
Network of Care
Presenter: Jacqueline Zimmer, Trilogy, Topic:Network of Care for Behavioral Health is an on line communication advocacy tool and information place for individuals, families and agencies concerned with mental and emotional wellness, substance abuse and developmental disabilities. Provides on line critical information communication and advocacy tools. Learn how an online information site can assist families and agencies in keeping up-to-date on individuals with mental and emotional wellness, substance abuse and developmental disabilities. Hands-on demonstration illustrates the value of access to mental health information.
Mental Health Crisis Response Institute
A Program of the 

40 Hour CIT Training for Law Enforcement April 27- May 1
Hosted by Washington County Sheriff's Department, $475 for the five day class. May 11-15, 2009, SCCBI in Brown County. These Memphis model CIT trainings use police trainers and daily scenario based role plays with professional actors.
32 Hour CIT Mental Health Response for Corrections and Detention
May 4-7, 2009, Ramsey County Sheriff
This training for corrections and detention staff is a 4-day program developed to address real world situations in jails and prisons with daily scenario based role plays using professional actors.
4 Hour 911 Call Taker and Dispatcher Training
This training is available to any 911 system in Minnesota that wants to update call taker and dispatcher training to improve dispatch of CIT officers to mental health 911 calls.
4 Hour Mental Health Crisis and Intro to CIT In-service for Law Enforcement
8 Hour CIT Facilitator/Coach Training
Fall, 2009, BSF is bringing in Crisis Company trainers to provide this advanced level CIT training for CIT officers who are interested in learning new skills or in leading CIT role play training. There is no charge for qualified CIT officers
8 Hour Social Service De-escalation Training, Managing The Mental Health Crisis
June 2, 2009, Temple Israel, Minneapolis
Training by Jonathan W. Bundt, MA, LMFT. This training is designed to give care providers skills that will enhance their readiness and response to these crisis events. Participants gain understanding of how to intervene with individuals in crisis and maintain their own safety and that of their client. CEUs for Social Workers, Psychologists and Marriage and Family Therapists.
8 Hour Children In Crisis
Deals specifically with issues school resource officers and school staff must face on a daily basis in dealing with the adolescent population. Includes role play skills training with professional Crisis Company actors.
4 and 8 Hour EMT/Paramedic/hospital nurse Training for Mental Health Calls
BSF trainings with its partners Crisis Company and Pro-Crisis. Other partners include Metro Region EMS Board, Arrowhead EMS Board,l EMS providers and higher education institutions.
8 Hour Mental Health De-escalation for Office Staff
Customized for those who work in a government office, courts or other setting where callers or walk-ins may be struggling with mental health illness. Includes a consumer panel on recovery from severe mental illness and appropriate scenario role plays with professional actors.
Customized Trainings for your Agency, Contact us to discuss your particular needs.
Call Mark Anderson at BSF for details 612 801-8572, or email admin@thebarbaraschneiderfouncation.org
Second Chance Day on the Hill
Feb. 11, 2009, 10 am  Capitol Rotunda, St. Paul, Minnesota
Join hundreds of others, and advocate for change. Hear the stories of those who have struggled to move beyond their past, become contributing members of our community and redeem themselves.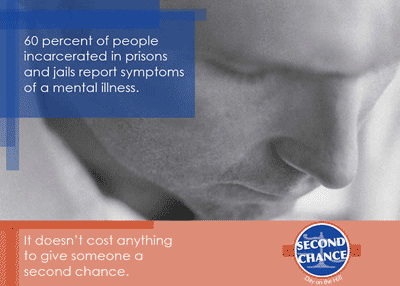 For more info visit www.goodwilleasterseals.org/secondchance
The Second Chance Day on the Hill Minnesota is sponsored and supported by a partnership of nonprofits and companies that believe ex-offenders have paid their debt to society and deserve a second chance to become law-abiding taxpaing citizens.